Lest we forget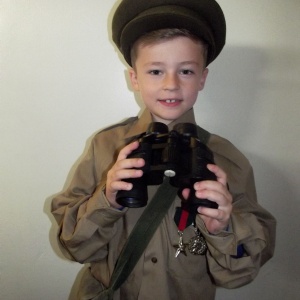 Prescot Primary remembers.
We have had an emotional week of remembrance in school during the special centenary commemoration of the end of World War 1.
Children in Y4 and Y5 worked on pieces of writing after an inquiry-based lesson centred around the life of a french child on the Western Front. Children listened to the story of Francine, a young girl who befriended an injured Tommy called Arthur and then acted in role as Francine when she wrote back to Gracie, Arthur's sister, after he was killed in battle. The aim of the lesson was to 'protect' the children into learning about difficult situations and to engage them deeper into their learning, becoming emotionally connected with the subject. The letters that were produced - and the engagement levels whilst writing - were terrific. This work was on display in St Mary's Parish Church during their weekend of remembrance.
Y4 also were able to work with our photographers; the dressed up in WW1 uniforms and handled artefacts that encouraged lots of historical enquiry. Y4 also had a chance to be the photographer. Their photographs will be put into a book for the school to display.
On Friday, all of the children came to school dressed in red, green or black t-shirts that allowed their teachers to arrange some 'human' poppy art. This was a lovely, physical way for our children to remember those that gave their lives.
Mrs Higgs also worked hard in preparing a garden of remembrance at the front of school. She laid out plants that made the image of one large poppy, that can grow and commemorate this special event for a long time to come.
And to finish our week of remembrance, each class made their own wreath and laid it at the front of the hall during assembly, just before our two minutes' silence. The children also felt that was important to include a purple poppy - symbolising the sacrifice that thousands of animals made during each of the world wars.