Y5 Project Day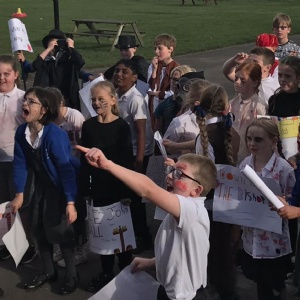 Y5 have been immersed in their topic of 'Peasants, Princes and Pestilence' for some weeks and today it was brought fully to life as the children got into role at plague-ridden, poverty-stricken peasants who were at the mercy of King Richard II. The classes were taken in and out of the story, capturing the plight of the peasants as they were constantly taxed to fund the wars in France. They followed their leader, Wat Tyler to London to persuade King Richard to change his mind. The march around the field was a noisy and emotional one!
The children spent the day discussing the issues surrounding this period in history, they wrote a persuasive letter to the King and designed effective protest posters. There was so much passion for the peasants' plight that the whole school soon knew about it!
It has been wonderful to see engagement turn into obsession. This will be a memorable day in Y5's learning journey.