Y6 are off to a great start!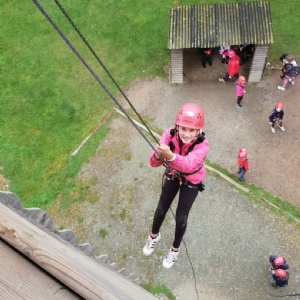 Working together with real team spirit. Fears faced and conquered!
As always, Year 6 have started their year in the best possible way - amongst the lush, green fields of the Shropshire countryside. Our annual PGL experience is planned during the first week back so that our eldest learners can explore new skills and negotiate challenges that they may never otherwise face.
This year, the children built rafts, abseiled, tunnelled, aimed arrows, engineered water balloon holders and screamed their way down the zipwire and giant swing. Each activity provided opportunities for different children to shine and we were so proud of those children who overcame fears or those who helped their friends to achieve.
Our 'Groupie' Lucy was thrilled to spend the week with our children, who proved themselves to be mature, sensible and kind.
This really was an amazing way to start the year! Well done Y6.
Watch this year's PGL movie here: Dolphins go to PGL!