The Great PCP Bake-Off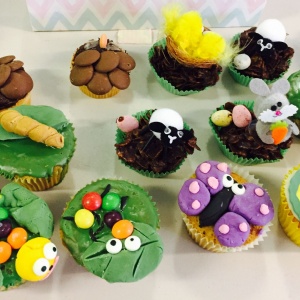 Huge amounts of 'botheredness'!
Our fifth Spring Bake-Off has been an amazing success!
With a 'nature' theme to match our summer zoo project, our children astounded us with imaginative bakes! There were rabiits in holes, volcanoes, trees in every season, caterpillars, apple cakes...the list goes on.
Judging took place throughout the morning with our Trainee Teachers making the final decisions.
Four lucky winners were announced on Thursday. Well done to Harrison Fraser (R), Bobby Hagan (Y1), Ruby Mason (Y4) and Louise Ball (Y5), who all won a brand new children's cookbook - we can't wait to see their next creations appear on Twitter!
Thank you to all of the families who made it such a wonderful event - and for buying cakes at the end of the day.
Money raised from this event will go towards new outdoor playtime equipment for those lovely summer lunchtimes ahead.