When I grow up...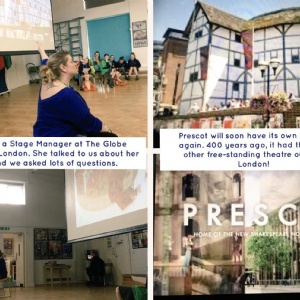 I'd like to be a Stage Director.
As part of our continuing focus on careers, we were lucky enough to welcome Becky Austin from The Globe Theatre into assembly.
Becky spoke to the children about her job as Stage Manager. She has travelled to 190 countries, taking the plays of Shakespeare all over the world! The children were eager to ask Becky some questions, such as 'What's the biggest theatre you have worked in?' and 'What is the best thing about your job?' Thank you @RebeccaAustin81!
Becky was also intersted to hear about Shakespeare's links with Knowsley Hall and Prescot, and how our new theatre is becoming a reality. The new theatre will be located close to the original site of a playhouse that existed in Prescot 400 years ago. It was significant as the only free-standing theatre outside of London. Read more here:
http://www.shakespearenorth.org/
As our children look to their futures, this new theatre and the cultural excitement that comes with it could offer career opportunities like we have never seen in Prescot before. #proudofwherewelearn