Investigating 'engagement'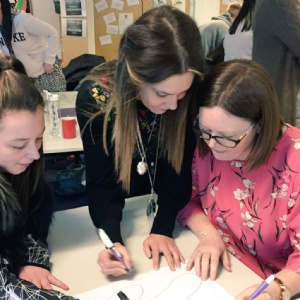 Staff engage in engagement!
Our staff love to learn. During a recent training event, we explored the pedagogical theories and research behind 'engagement' - how we can plan learning opportunities to engage all of our children and lead them to invest in their learning.
We have been lucky enough to listen to the ideas of and be inspired by Hywel Roberts and Dr Debra Kidd, who discuss the importance creating emotional connections within lessons. During our INSET, we looked at the role of questioning in maintaining active imaginations and how we can support our learners to be confident 'imagineers'.
Our staff also explored a theme from 'Uncharted territories' by Roberts & Kidd. This illustrated the importance of drama techniques in encouraging our learners to become attentive, interested, engaged, invested and - finally - obsessed, (Heathcote's 'Continuum of Engagement').
We hope to research the impact of these techniques on the engagement levels within our classes and then build these techniques into our future curriculum.
Reading material:
'Oops! Helping children learn accidentally' by Hywel Roberts
'Uncharted territories' by Hywel Roberts and Dr Debra Kidd
'Education Forward: Moving schools into the future' by David Price