Meet Roly!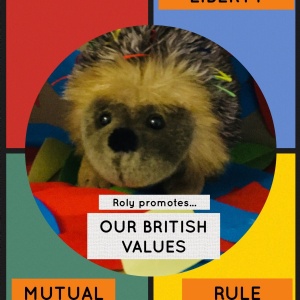 A great British hedgehog helps to promote some important values.
At Prescot Primary, we have seen the benefits of using visual aids to promote ideas that may be a little confusing for younger learners - just look at how much our children love working with Ping the eSafety Penguin and our Safeguarding '3 Little Birds'.
Our cuddly mascots are included in assemblies so that we can explore their meaning and ask/answer any tricky questions.
The newest member of our mascot crew is Roly the Hedgehog. As one of our indigenous wild animals, we feel that Roly can help to tell the story of life in Britain and illustrate the values we hold dear, those of:
Individual liberty
Rule of Law
Democracy
Mutual Respect
Our House Teams will each be exploring one of the above values and Roly is getting ready to help by growing new spines in each of the four house colours! We are excited to see how Roly helps to promote British Values.