Getting creative!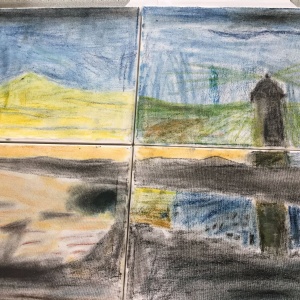 Read all about our wonderful whole school Art Project Day!
tDuring the final term of last year, our children took to the polls to vote for a subject area to explore and celebrate as a whole school. Art came out on top! All yeargroups worked creatively around the theme: 'Remembering a Great British Summer'. Nursery explored making shapes in the sand whilst Y6 looked at the work of Janet Bell. The whole day sparked lots of creativity with various artistic mediums being used including collage, sculpting with mod-roc and salt-dough and printing with summery fruit.
Whatever the style, teachers consistently reinforced the message that artists persevere and build up their skills through practice. The children had many ideas on 'what makes a good artist', including:
Be positive
Dont worry about being different
Be good at looking for detail
Take care
Put heart into your art
Have the right mindset - "I can't do it ...YET!"
It really was an amazing day that we hope to showcase during our Family Consultation Evening in October.
Follow this link for a sneaky peak...
http://www.prescotprimary.org.uk/gallery/?pid=57&gcatid=13
Or watch the movie that our Pupil Digital Leaders created: