Careers Showcase 2017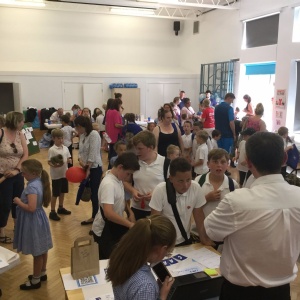 Thursday was a very exciting day! After a couple of days of our whole school 'World of Work' project with some excellent visitors to open the week, we welcomed over twenty amazing visitors who wanted to #shoutabouttheirjobs! Our hall was transformed into a marketplace where the children could chat to our visitors and ask lots of questions about their careers.
Careers represented were:
Retail Generator for the British Heart Foundation
Production Manager for Jaguar Land Rover
Physiotherapist
Micro-biologist
Solicitor
Lecturer
Police Officer
Detective
Farmer
Delivery Office Manager, Royal Mail
Army Cadets
Plumber
Nurse
Trainee Teachers
Software Manager
Business Manager and Creative Lead from the Apple Store, Liverpool
Education Liaison from Knowsley Safari Park
Musician
Engineer
Interior Designer
Banker
This really was such a worthwhile event that allowed our children to develop their own interests in the world of work and begin to think in more detail about what careers they think would suit them. We hope to run it again next year.
We would like to thank all of our contributors for giving your time on the day and before the event. Thank you also for bringing along some excellent tools of your trade to share with the pupils - and a few free gifts too! We really could not do this type of event without your help.
We received some lovely feedback from our visitors:
'It was inspiring to hear what our young people were thinking about doing. The pupils here are a pride to their school. The amount of them who wanted to be teachers is a good reflection on whom they have been taught'.
'This was a great opportunity for the children. I was impressed at the interest from them, they were attentive and listened well. I haven't talked so much in ages!'
'Such an enjoyable day! There was a great atmosphere. I can' wait for next year!'
THANK YOU EVERYONE!
Please enter some content for your news story here.