Our Egg-citing discovery...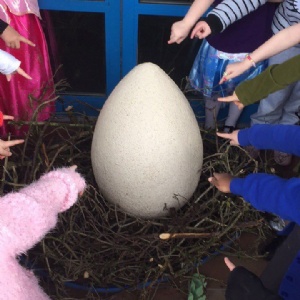 Our whole school spent World Book Day exploring a discovery that had been found near our Reception building. Each class received a letter and then we gathered together in the hall to read a text and an email explaining how a special object would be found somewhere in the school grounds. Everyone was so excited and couldn't wait to find out what had been discovered. And then we saw it...a giant egg! Each class was then on a mission to find out more about this egg and lots of fabulous questions were asked. The egg has sparked so many activities, from slime-making in Y3, egg-vehicles in Y2, newspaper articles in Y4 and structures to protect the egg in Y6.
We are excited to hear the ideas from each class! A great day!