Supporting good causes at PCP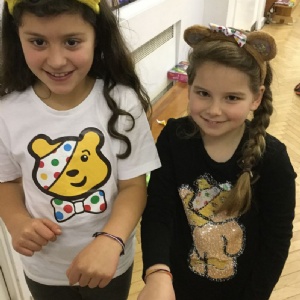 Written by Red House Leaders, Ruby and Joseph.
Supporting charities at Prescot Primary.
This half term our school has done a substantial amount of charity work . One of the causes was Children in Need. £399 in total was raised for this amazing cause. This was raised by all of the children dressing in Pudsey ears, onesies, pyjamas, face paint and socks .Ben in Y4 said he liked this day because he had a chance to donate money to children who need it most. Maisie in Y3 said she enjoyed Pudsey Day because she could wear her Children in Need pyjamas. In assembly, we talked about how we can help our friends in need at school.
Another cause that we have supported was 'Go Neon for Neo' Day. This was extremely popular because you could wear fun accessories like neon hair extensions or scrunchies . We raised £189.00 for neo-natal babies at the Liverpool Women's Hospital. Lili-Rose in Y5 said she really enjoyed the assembly that Mrs Seddon did. Betsy in Y3 said she enjoyed helping babies.
The next cause is the Poppy Appeal - we managed to raise £72.75 by selling poppies in our office and hosting the beginning of Prescot Parade. We also had a great assembly where we also respected the two minutes silence at 11am. We think that it is really important to remember what others have given for us to live in peace.
The last cause was Y2's sponsored Welly Walk - they managed to raise a whopping £775.50! Emily Pye in Y2C raised £185.00 and Riley Ankers raised £125.00 . They did one walk in the morning at which time it was only lightly raining however by the afternoon it was heavy rain (very heavy rain!) . The children really did need their wellies!
We are very proud of our school's charity work this half term and we thank you for supporting all of these wonderful causes .