Autumn projects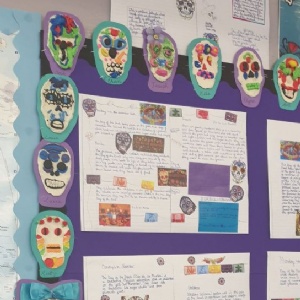 Project update. Written by the Yellow House Leaders, JJ and Ruby.
Class Projects
In Prescot Primary, every year group studies subjects of the National Curriculum through a project theme. We think this helps us to make connections and remember what we have learned. Read on to find out what each year has learned about this term!
Y1 have been studying the Great Fire of London. This fire started in a bakery and so the children have learned how to bake bread of their own. It was scrumptious!
Y2 loved their 'Pirate Day' when they dressed up as sea explorers, RNLI heroes or pirates. So many geographical skills were explored during the day and everyone had great fun too.
On the 6th of December, Y5 had special day focusing on the history of the 1300s and the Black Death (a terrible disease that spread across Europe during the mid 1300s). All of the children had lots of fun dressing up as peasants, knights and doctors. We interviewed Thom and this is what he had to say about Plague Day:
"I liked the part where we had a revolt with Wat Tyler (the leader). He tried to ride away on his horse but he died half way."
Y6 have also done some exciting things. Mrs Scott and Mrs Ward-Thompson have bought ingredients such as onions and tomatoes for them to make the classic Raw Mexican Salsa. Everybody helped make it and in the end, they all had a tasty snack. It was a bit messy but it was also fun. Y6 also made hot chocolate as they explored the importance of cocoa in the Ancient Mayan civilisation.
We interviewed a few more children from Year 5 and 6 and asked them why they like events like these. They said that they like these events because it's something really different compared to writing. I also questioned them about how they help you learn. They answered back saying that if you experience something then it will be easier to remember them when you're writing about it.