Community support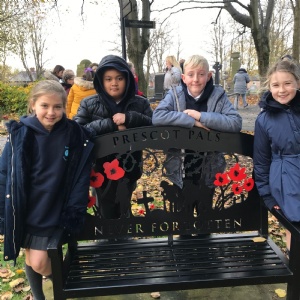 We have a busy couple of weeks supporting local causes both locally and nationally.
We always take part in annual remembrance celebrations, in school and in Prescot. This year our House Captains took part in the towns remembrance event at the memorial in Prescot.
In addition to this, we have helped to raise money for two wonderful charities that help children to live healthy lives.
On Fri 8 November, the school went 'Neon for Neo' as we raised awareness of the care given to babies who were born too soon. In assembly, we reflected on the extra provision needed to look after these little babies and also at those children who had received that care. Money was donated to Liverpool Women's Hospital.
And of course, November wouldn't be complete without the mini Pudsey bears and other yellow, spotty outfits that came into school last Friday. Whilst the children have fun, we also explore where our donations go and all of the different reasons why children find themselves in need. This year, we also looked at ways of helping our friends who may be in need.
Our children love helping others - thanks to everyone to who took part.