Our local studies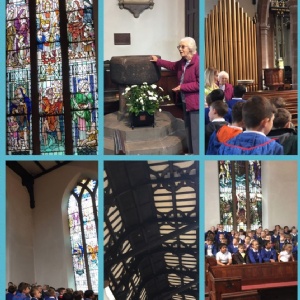 Finding out more about where we live and learn.
To start this new term, everyone from Y1 to Y6 is studying aspects of local life, driven by themes in the history and geography curriculum.
Year One - who are studying the history of our school - have had visitors from past pupils, who learned here many years ago. Year Two are being 'street detectives' and are exploring the local streets - Google Earth is a great tool for this!
The photograph you can see is of Year Three, who have been studying the importance of Prescot Parish Church and its fascinating history. Thank you to Betty, who gave them a really informative talk about the features of the church.
Following this, Y4 are exploring shopping in our local area, Y5 are looking at industry and Y6 will be understanding what life was like here during the war.
We live in a place so full of interest - this topic could go on for ever!