iPad Band go live!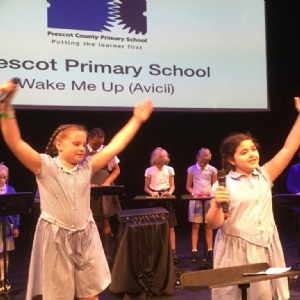 A different kind of orchestra!
Thursday evening saw our talented children enter into a competition to win some fantastic musical equipment for school. Our enthusiastic singers and iPad musicians gathered at The Capstone Theatre for an evening of high-tech performances.
MCC Digital provided training with an Apple Professional trainer - David Kirtlan, who guided our children into the world of making music with the Apple app 'Garageband'. This app holds hundreds of different ways of composing music and allows our children to experience playing a whole array of instruments at the touch of a button. As an Apple Distinguished School, this is an area we want to embrace more fully and we loved having the opportunity to take part in this event.
On the night, our group performed Avicii's 'Wake me up' and energised the audience with their outstanding performance, (after only three days practice!). Although we didn't win, we were very proud of their composure and expertise and would love to do this all again!