EYFS Grand Opening!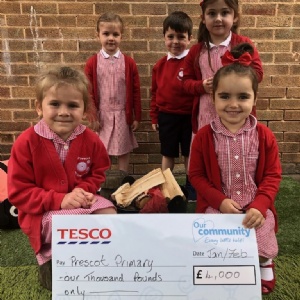 It was a grand event to mark a grand achievement! After winning the TESCO 'Bags of help' scheme, our Early Years' outdoor provision has been transformed. We were very proud to show Tesco colleagues all of the hard work that has been done to create outstanding spaces for our children to enjoy.
We now have two wonderful spaces for our Nursery and Reception children to investigate - spaces that reflect the vibrancy and purpose of their indoor learning spaces. There are climbing walls, stages, mud kitchens, reading dens and mark-making zones - to mention just a few of the new areas. We feel very lucky to have had this opportunity and these spaces will continue to offer a wealth of learning opportunities for years to come.
Thank you to all of the families who turned up for the opening. We value your support and we know that the children are extremely happy with what the community has done for them.