Reception become farmers!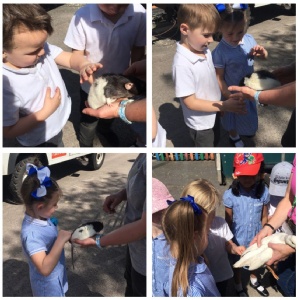 Welcoming Acorn Farm to PCP!
The sun came out to welcome Acorn Farm staff and animals to Prescot Primary. The lovely weather meant that we could let our Reception children meet all of the animals outside in the fresh air.
Visits like these help to make learning 'stick' as they engage the children with knowledge and skills on a practical level. The children were shown lots of different farm animals and were taught how to handle them correctly. They also explored how animals differ and were able to identify different features.
The children were extremely excited and showed great care and concern for the animals.
We have some little vets or farmers in the making! Thank you Acorn farm!