Midsummer Magic.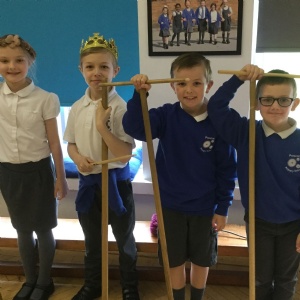 Our wonderfully talented Year 4!
There has definitely been a build up of excitement in Y4 over the past term.
4D have thoroughly enjoyed working in collaboration with The Heath, to perform Shakespeare's 'A Midsummer Nights Dream' as part of the Shakespeare Festival at The Prescot School. The children fully immersed themselves into creating this wonderful performance, even making music with broomsticks and water-phones!
Y4D have been attending numerous workshops with Kate and Chris from The Heath and this was the first time they had ever worked alongside year 4 pupils. Kate and Chris were amazed at how quickly younger children could learn new skills - what an achievement! However, it did present a few challenges: it was a struggle at first talking in old English whilst still getting expression across! But Y4D rose to the occasion and really did excel themselves.
We were amazed and thoroughly entertained watching this comedy performance. Every child will remember this experience for a long time - it was definitely a memorable one!
Huge thanks to Kate and Chris from The Heath for working with us and organising the event. Your expertise was really valued.