Prescot Loves to Talk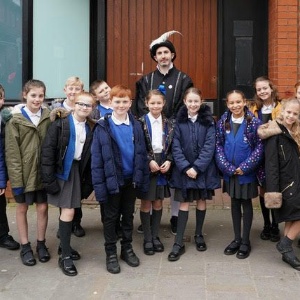 Our performance was part of the Prescot Loves to Talk project. The concept of the project was to encourage people to think about spending time to talk with those within our community especially friends and family and those that we know that may be lonely or have limited interaction with others outside the home or within the community.
We were one of four primary schools taking part. The Town Crier introduced each performance, starting at the Deanes Church in Prescot and working our way through the town centre with a performance taking part at different positions throughout.
Our group of fourteen Year 5 children showcased performance poetry in the spoken word and sign language (BSL). The poem was' Sights and Sounds' written by Benjamin Zephaniah. We were also pleased to find out that he saw our performance via Twitter, thanks to Knowsley Council; he tweeted "Wow. Cool school".
Our performance was followed by a workshop with Curtis Watt in Prescot library. The children had a fantastic time!