Curriculum - Summer Term
Maths
The final term of Year 4 will concentrate on Decimals and money, Time, Statistics, Shape and co-ordinates. Once again we will be relying on the children to learn those all important timestables! Click here to access timestables games.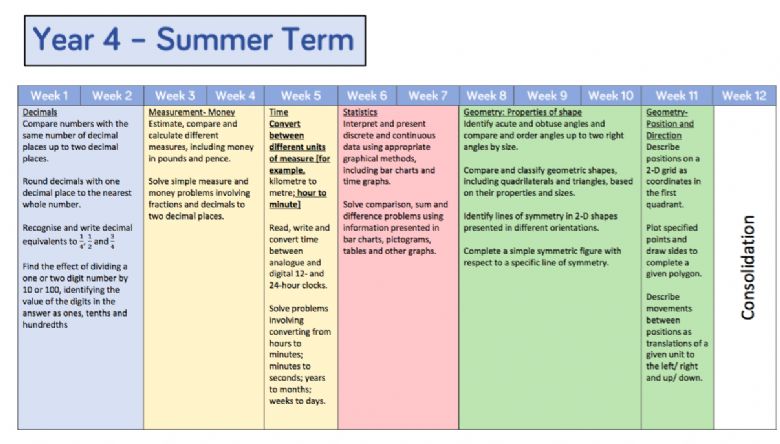 Please click here for a full year overview of Year 4 maths
Literacy
Our Lit & Lang programme will continue this term with our final two units. In Unit 5, the children are introduced to a story with a historical setting: Runaways! by Jim Eldridge. The children will explore the setting and use it to immerse themselves in the story. The setting and period will then provide inspiration for their own writing! Our Non-fiction in this unit will focus on journalistic text. The children will broaden their knowledge of Victorian times by looking through texts that are typical of the period. They will learn about the features of newspaper aricles and entries and be given the opportunity to write their own entry for a class newspaper set during the Victorian era.
Our final unit will explore a story from another culture: Sugarcane Juice by Pratima Mitchell, set in Pakistan. They will look closely at the vivid description and action so that they can borrow language, ideas and structure such as dialogue to use in their own writing. They will write an additional episode of the story using the ideas and the techniques that they have explored. Our Non-fiction for our final topic will focus on developing persuasive techniques developed in advertisingso that they can create their own marketing campaign with a clear message. The children will analyse a film trailer and poster and design their own versions for a new film.
Science
Electricity - This is the first introduction to studying electricity in KS2. The children will learn about what electricity is and how it was discovered. They will identify which appliances use electricity in their homes and how to keep themselves safe. Children will construct circuit, start to create pictiorial circuits and conduct an investigation into how easily different types of switches can break and reconnect a circuit.
Scientists and Inventors - This unit will teach the children about famous scientists and inventors linked to this years curriculum. The children will look at the likes of Alexander Graham Bell, Gerald Durrell, Lord Kelvin and Thomas Edison. The children will also find out about the invention of toothpaste, and will even get to invent their own brand to compare against real brands.
Geography - Why do people settle where they do? Children will be investigating this question and looking as far back as the Celts to determine which factors are important and why.
French - This term the children will concentrate on the 'Where in the World?' unit. This unit will teach your children key vocabulary related to countries/continents and animals. They will learn specific vocabulary of countries of the United Kingdom, continents and animals from different continents and a country's position related to the equator. They will learn key phrases connected to the themes.