Curriculum Spring Term
The Amazing Americas
In this unit about the amazing Americas, children will first find out about the continents of North and South America, and the countries that form them. They will then look in more detail at some of the contrasting areas of North America, finding out about the landscape, climate and locations in each area. At the end of the unit, children will research a trip to an area of North America and create tour guides to share what they have found.
Literacy
The main theme for our reading and writing this term is Beauty and the Beast, we will begin this unit with Anthony Browne's King Kong. This study will allow the children to write focussed short narratives.
This unit will also allow the children to develop their journalistic writing. They will be taught to recognise the structure and language features of journalistic reports, both as written text and as scripts for oral presentation. Children will write an effective news article in journalistic style, selecting language, form, format and content to suit a particular audience and purpose.
Our class book will be Holes by Louis Sachar, this will support the Creative Curriculum study of the Amazing Americas. Mrs Roxburgh, Mrs Molloy and Mrs Scott have all enjoyed reading this book and love the way in which Sachar cleverly uses flashbacks to link the past and the present.
Maths
This is an overview of the White Rose Maths Scheme used in Y6, we will use this as a guide but will also use the STAR maths tests to inform our plans.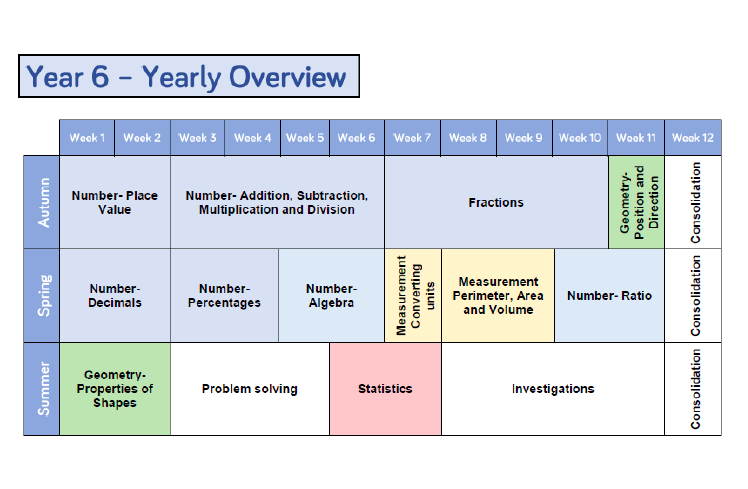 Science
This unit builds on the children's learning from the Year 3 Rocks unit as well as the Animals including Humans and Living Things and their Habitats units. As such, it is important that children have the appropriate understanding of fossils, habitats and human development in order to grasp the concepts and ideas presented to them in these lessons. Children will learn about variation and adaptation. They will be able to explore how both Charles Darwin and Alfred Wallace separately developed their theories of evolution. They will examine the scientific evidence from plants and animals that has been gathered to support the theory of evolution.
General Information
The children will be working towards their SATs this term. They will be given opportunities to complete practice tests and given feedback on ways in which they can improve. To support your child through this term we ask that they read daily for at least 30 minutes and use their ipads to sharpen their calculation skills, using TTRockstars and other maths games. If you would like any more information on how to support your child, please come and see us.