Curriculum Autumn Term
Creative Curriculum
Our overarching unit of work this term will teach the children all about World War II. They will learn when and why World War II began and find out about the key individuals and countries involved. In addition to this, they will discover all about evacuation; learn what it was like to live with food rationing and explore the contribution made by women to the war effort. Furthermore, they will learn important facts about the Holocaust and investigate events that were key turning points in the war, such as the Battle of Britain and the German invasion of Russia. Studying World War II will help children to develop their investigation and evaluation skills; learn to organise information chronologically and understand how past events have helped to shape the world we know today. See the link at the bottom of the page for our WW2 Knowledge Organiser.
Literacy
Our Literacy this term will be based around our class reader "Letters from the Lighthouse." This novel is set during WW2 and follows the evacuees Olive and Cliff. The year six children will write diaries from different points of view, focussing on the style and language required to make it authentic. The history topic will also support this writing process by using real-life evacuee footage . We will then move on to Newspaper writing, leading to an article about the outbreak of WW2.
Our grammar focus will be linking paragraphs using cohesive devices, practising writing using the active and passive voice and reviewing how to use direct speech correctly. There will also be revision of the KS2 grammar curriculum.
Maths
These are the areas that we will be focussing on this term . The use of the Star Maths programme will inform our planning.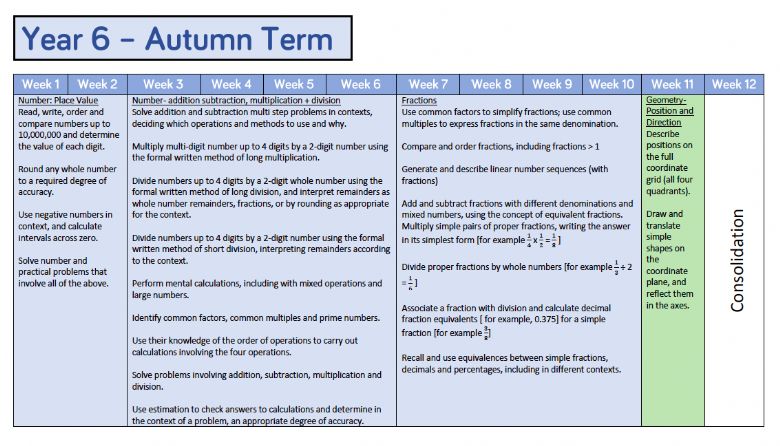 Science
Children will build on their knowledge and understanding of different systems within the body and research the parts and functions of the circulatory system. They will focus on how nutrients are transported around the human body. Children will explore how a healthy lifestyle supports the body to function and how different types of drugs affect the body. This will allow the children to develop their non-fiction writing skills by producing an explanatory text. They will explore and use the correct scientific vocabulary needed for their work and become scientific writers.