Curriculum - Autumn Term
Maths
In Maths we will be focusing on our understanding of place value and number. This term we will explore addition, subtraction, multiplication and division using formal written methods. To see what else we will be explaining please see the image below.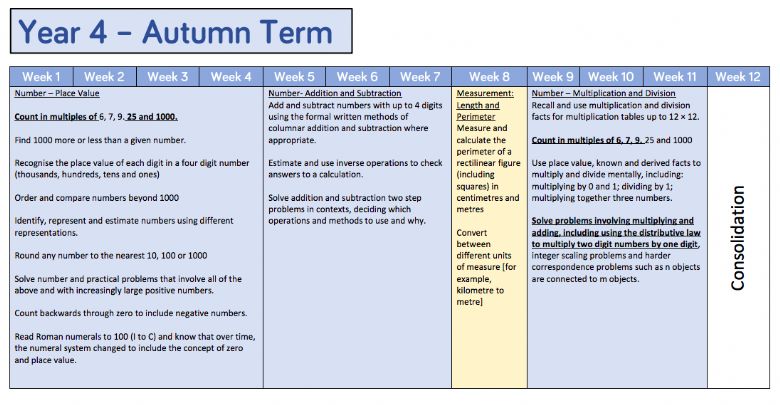 Please click here for a full year overview of Year 4 maths
Literacy
In our first Literacy and Language unit the children will be reading 'Lost or Stolen?' by Narinder Dhami to explore the themes of relationships, suspicion and trust. Opportunities for writing will involve using a story 'roller coaster' to plan and write a new chapter for the story.
We will also be writing poems using personification within our second unit of work. The children will play with poetic techniques such as, repitition, alliteration, onomatopoeia, rhyme and free verse.
Our grammar focus this term will be using fronted adverbials, commas, inverted commas and presenting dialogue.
We will also be writing letters, reports, diary extracts and taking notes through our curriculum topics such as History, Geography and Science.
We will post images of our time during our lessons to share with you soon - keep an eye out on Twitter!
Science
Autumn 1 – Living things and their habitats – In this unit the children explore a variety of ways to identify, sort, group and classify living things. They learn how animals are split into 'vertebrates' and 'invertebrates' and begin to consider the differences between living things within these classifications. They use and create classification keys to group, identify and name living things from the local habitat and beyond. This unit also introduces children to the idea that environments are subject to man-made and natural changes, and that these changes can have a significant impact on living things. Throughout the unit children work scientifically by gathering, recording and presenting information in different ways.
Autumn 2 – States of matter – This 'States of Matter' unit will teach the children about the differences between solids, liquids and gases, classifying objects and identifying their properties. The children will work scientifically and collaboratively to investigate the weight of a gas. Furthermore, they will have chance to find the ideal temperature to melt chocolate. They will explore in-depth how water changes state, exploring melting, freezing, condensing as well as a particular focus on evaporation. Finally, they will learn about the stages of the water cycle, creating mini water worlds and an interactive water wheel to represent the different stages.
History
We will also be following the Cornerstones unit – Crime and Punishment! The children will find out about the legacy of the Roman justice system and crime and punishment through the Anglo-Saxon, Tudor and Victorian periods.
Geography
This term we will be following the Blue Abyss topic. The children will learn all about the oceans of the world and the different regions of the globe. They will plot co-ordinates and learn to read maps. They will explore the physical geography of the Arctic and compare this to the tropics. We will be going deep into an underwater world of incredible coral!
RE
This term we will be thinking about journeys and pilgrimages. The children will research and recount why we make journeys and they will look at religious pilgrimages. During the lead up to Christmas we will be learning about angels and the role of the shepherds.
Music
This term all the children will have the fantastic opportunity to work with Mr Brown and learn some Samba! They will learn how to read music, pick out a rhythm and listen out for different pitches in music. All the children will perform a Samba piece with 5 independent parts, including a 3:2 clave rhythm and complex call and response. They will have experience playing Surdu drums, Tambourims, Agogos, cowbells, claves and shakers.
Art and Design
In our Art and Design lessons, we will be designing our own potion bottles as part of our Lotions and Potions topic. The children first get to draw their designs and come up with their own imaginative ideas about what their potions could do. They will then have the opportunity to make their bottles out of clay and will be painting them in the upcoming weeks!