Curriculum - Autumn Term
English
During this term we will be using the 'Soggy the Bear' books by Philip Moran to engage the children. They will be writing descriptions of Soggy, retelling the stories and thinking of questions to ask Soggy.
During our Land Ahoy topic there will be lots of opportunities for writing. We will be writing lists, thank you letters to the RNLI, stories about the RNLI and facts about Grace Darling. We will also be writing instructions about how to find the treasure on our Pirate treasure maps.
To further develop the children's language there will be lots of opportunities for role-play. They will act out the story of Grace Darling and role-play being rescued by the RNLI.
Our grammar focus this term will be adjectives, adverbs and past tense.
KS1 Common Exception Words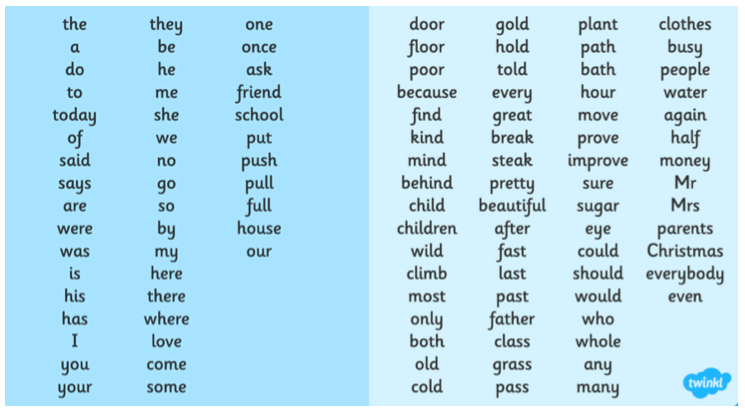 Maths
Number: Place Value
The children will be investigating and understanding the value of the tens and ones digits in a 2-digit number. They will use this skill to order different numbers from smallest to largest by looking at both digits in the number. The children will also be practising counting forwards and backwards in 2s and 5s from 0 and in 10s from any number. Year 2 also need to know how to read and write numbers up to 100 in words and numerals.
Number: Addition & Subtraction
Year 2 will be learning and using addition and subtraction number bonds up to 20 to solve problems. From their knowledge of place value, they will work on number bonds to 100 by looking at the tens and ones digits. They will be completing a variety of addition and subtraction activities. These will include adding and subtracting a 1-digit and a 2-digit number from any number as well as adding 3 1-digit numbers.
Measurement: Money
The children will be counting in pence, pounds and a mixture of both. They will use coins to make an amount but also investigate how many other ways there are to make that same amount. The children will be challenged to find the difference within two different amounts of money. They will use this skill to find change.
Number: Multiplication & Division
Year 2 will be looking at multiplication as making 'equal groups of one amount' and division as sharing 'one amount into equal groups'. They will write multiplication and division sentences using the x and ÷ sign. Once the children understand these calculations as 'groups of', they will move onto using arrays to solve multiplication and division problems. Year 2 will also look into learning their 2x, 5x and 10x tables.
Land Ahoy
Get your sea legs on, it's time to sail the salty seas!
This term we will be finding out about the RNLI and how to stay safe on the beach. There will be a RNLI volunteer talking to the children about the role of lifeguards. This topic aims to develop the children's knowledge of the world, helping them to locate continents and oceans and seas - naming as many as they can. For our history focus we will be looking at reasons why people in the past wanted to travel around the world and will 'explore' the idea of 'exploration', with significant people, such as Captain Cook. The children will make timelines of Captain James Cook and Grace Darling. The children will also take part in a Pirate Day which will involve lots of pirate games and activities.
Science
Our first science topic this term is 'Uses of Everyday Materials'. In this unit we will learn about the uses of everyday materials including wood, plastic, metal, glass, brick, paper and cardboard. We will then go on to compare the suitability of different everyday materials for different purposes. We will explore how objects made of some everyday materials can change shape and how the recycling process is able to reuse some everyday materials numerous times. We will finish the unit learning about new discoveries which have been made over time with a specific focus on John McAdam. A range of learning activities are used in this unit including, discussions, debates, sequencing and a local walk where children work scientifically to identify the uses of everyday materials around our school.